Pavel Schorník
Narozen: 3.7.1980
V klubu od: 2012
Předchozí působiště: TJ Dražice, FK Tábor, Čechie Uhříněves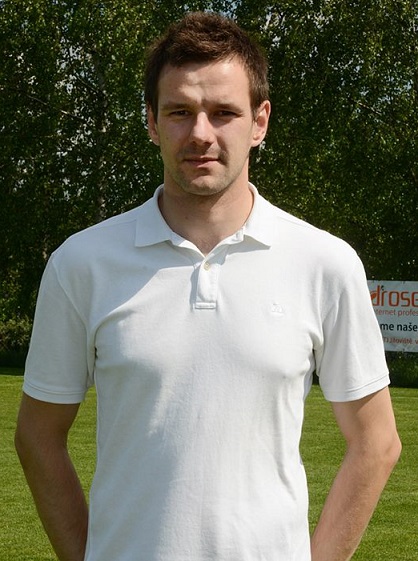 Po delší době tu máme další z rozhovorů, tentokráte jsme vyzpovídali asistenta trenéra "A" mužstva a záložního brankáře Pavla Schorníka. Bývalého divizního gólmana, studenta Karlovy univerzity či vítěze poháru Pražského fotbalového svazu, co by kouče Uhříněvsi. Právě v tomto pražském celku, se v trenérské dvojici s Petrem Konigsmarkem, podílel na nejúspěšnější sezóně v historii tohoto klubu (2010/11), když s podceňovanou Uhříněvsí obsadili v Pražském přeboru 3. místo a vyhráli Pražský pohár.
1)      Máš za sebou čtvrtou půl-sezónu na lavičce áčka, jak bys hodnotil tu právě skončenou?
Samozřejmě, jako nejtěžší část sezony, za dobu, co jsem na Jílovišti. A to nejen po fotbalové stránce.  Objevila se zde celá řada věcí, které nejsou vyloženě fotbalové, ale mají velký vliv na výkon celého mužstva. Jinak já jsem si přál po podzimní části mít alespoň 20 bodů, čili bych měl být spokojený, ale tak tomu rozhodně není! K této bodové hranici jsme vyloženě doklopýtali.
2)      V létě se vám podařilo mančaft skvěle nastartovat, až do 6. kola to nevypadalo vůbec špatně.Pak přišel doslova příšerný zápas s Benátkami (0-7, poz.red.), který tým pochopitelně poznamenal. Co se stalo?
To nebyl až zápas s Benátkami. Že to má klesající tendenci, bylo patrné již 2-3 zápasy před tímto. Benátky byly jen vyústěním situace, která vznikala, a v tomto zápase se sešlo všechno dohromady, proto to dopadlo, tak jak to dopadlo!
3)      Jména těch, od kterých se čekalo více, pomineme. Je ale někdo, kdo tě v průběhu podzimu příjemně překvapil a proč?
Štáfa byl pro mě příjemným překvapením. S vyšší soutěží se dokázal vypořádat bez větších problémů.
4)      Ve tvé kompetenci je mimo jiné také střídání během zápasů. Vzhledem k povolenému počtu pěti hráčů, máš tak dostatečný prostor reagovat na dění na hřišti. Když se ohlédneš za podzimní částí, udělal by si něco jinak, nebo si pevně stojíš za svými rozhodnutími?
Tato novinka, je teprve od letošní sezony, proto je potřeba si na to zvyknout a najít optimální způsob, jak toho využít, aby to bylo přínosem pro naše mužstvo. Takhle to sice vypadá, že je to ohromná výhoda, když můžete vystřídat pět hráčů. Bohužel tomu tak není a ne vždy takový počet střídání mužstvu prospěje.  Byla tam střídání, která šla udělat lépe nebo je udělat trochu jinak. U toho je důležité stále hledat, co šlo udělat lépe, aby to příště bylo zase o kousek lepší. Vždy se snažím přihlédnout ke všem okolnostem (aktuální formě, soupeři, stavu utkání, atd.) a udělat racionální rozhodnutí. 
5)      Čeká nás dlouhá zimní pauza, je něco, na co se budete chtít zejména zaměřit?
Podzimní část sezony ukázala poměrně dost věcí, kde nás tlačí bota.
6)      Je dle tebe na místě posílit nějaký post?
Ano, post útočníka nás dost trápil.
7)      Po 15. kolech figurujeme na 10. místě, reflektuje to reálnou sílu jílovišťských?
Reálnou sílu ne, ale současnou ano!
8)      Z osmi domácích zápasů jsme hned 5x nedokázali zvítězit, mluvit tak o nedobytné tvrzi nelze. Proč to doma tolik skřípe?
Důvody by se daly shrnout do dvou hlavních: kvalitnější soupeři (technicky, takticky, fyzicky vyspělejší) a naše problémy, které nás provázely podzimem. Prostě nám už na vítězství nestačí jen fotbal.
9)      Fotbalovou kvalitou máme zajímavý kádr, ale nechybí týmu jasně daný lídr? Pan "zlý", který hráčům nedovolí cokoliv vypustit? A kdo by jím mohl popřípadě do budoucna být?
Souhlasím, lídr, který by dokázal "zbláznit" nebo usměrnit mužstvo, v momentech kdy je potřeba, tak ten nám chybí. A nemusel by to být vyloženě pan "zlý". V tento moment nevidím nikoho, kdo by to mohl být. Jisté předpoklady tady 2-3 hráči mají, ale uvidíme časem, jestli se z nich někdo tím lídrem stane.
10)   V jednom z rozhovorů ohledně tvého konce na lavičce Uhříněvsi, si uvedl jako jeden z hlavních problémů to, že jsi byl s hráči více kamarád než jejich trenér. Jaký vztah panuje tady mezi tebou a hráči?
Ano, to jsem řekl! J  Ale tam ta situace byla trochu jiná. Bylo tam jiné složení mužstva, jiné problémy. Bohužel jsem v tomto ohledu trochu idealista a vždy si myslím, že se s lidmi (ať v jakémkoliv odvětví) dá domluvit normálně. Ale samozřejmě vím, že tomu tak úplně není!
11)   Nejenže zastáváš funkci asistenta trenéra, ale tvoje brankářské služby stále využívá v mistrovských utkáních zejména Benfika (1x start A, 5x startů B, poz.red.). Jak se ti dařilo?
Jéééé, to nechám na posouzení trenéry Benfiky a ostatních lidí. Snad mi třeba ještě někdy zavolají! J  Já mohu pouze konstatovat fakt, že po těch letech, kdy jsem musel skončit s fotbalem ze dne na den, jsem se necítil zrovna ideálně!
12)   Kam jsi to fotbalově dotáhl nejdále? Co považuješ za největší úspěch své brankářské kariéry?
Celá moje kariéra byla provázena velkým množstvím různých úrazů, takže jsem se pořád vracel zpět po zranění až přišlo to poslední, které mi ukončilo kariéru. Mimochodem človíček, který mi "ukončil" kariéru, tak tady byl na podzim hrát. Ale byla to spíše taková smůla, takže ho rád vždy vidím.  Jinak po dorostu jsem naskočil rovnou do mužů v Táboře, kde se hrála v tu dobu divize. Největší úspěch?  Na celou kariéru rád vzpomínám, od dorostu až do teď. Ale pokud bych měl být konkrétní a vybrat např. jeden zápas, tak by to byl asi pohárový zápas ČMFS proti Slavii, kdy přišlo spousta lidí a ten zápas se líbil.
13)   Máš nějaký trenérský cíl či sen? A nějaký trenérský vzor?
Trenérský sen vyloženě nemám. Nevím, jestli se to dá nazvat vzorem, ale mám rád styl Jurgena Kloppa. Sledoval jsem jeho zápasy už před x lety, ještě na stanici DSF, kde dávali přímé přenosy II bundesligy. Už tenkrát bylo vidět, že má před sebou velkou budoucnost.
14)   Jaký je tvůj oblíbený klub a hráč?
Oblíbeným klubem je Borusia Monchengladbach a hráčem je Davis Luiz.
15)   Kdo by měl letos získat zlatý míč France Football (Messi, Ronaldo, Ribery)?
Frank Ribery