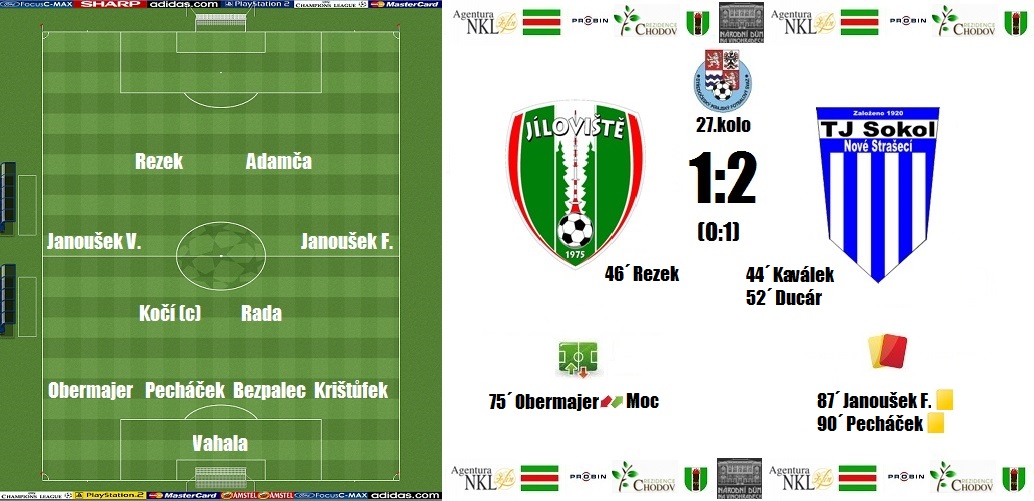 Na našem hřišti se zdá všechno tak blízko a přece tak daleko. Připravit si gólovou šanci, ideálně se dostat až k bráně… problém. Pouhé dvě brankové příležitosti za první a čtyři za druhý poločas, přičemž tři z nich se odehrály až v posledních minutách zápasu, je málo. Klukům nelze odepřít snahu, jedince, který by zápas nechtěl vyhrát, byste v našem týmu včera nenašli. Naší hře směrem dopředu jednoduše chybí kvalita, akce mívají myšlenku, leč provedení strádá na přesnosti, nemluvě o zakončení. Oba mančafty pojaly úvod střetnutí opatrně, přičemž naši chlapci byli více na balónu a chtěli diktovat tempo hry. Úvodní klid přerušil po čtvrt hodině Tinis, kterého ve vápně v tutovce soupeř zastavil nedovoleně, a následovala penalta. S tou bohužel Kóča nenaložil vůbec ideálně, Petr Kut v bráně hostů vystihuje směr a pohodlně zasahuje. Na druhé straně, v 18.minutě, své brankářské umění demonstroval Vahy. Kaválek se ve středu pole dobře vymotal se svízelné situace a přesně vybízí Volfa, který se na vápně zbavuje obránce, tvrdě střílí…á Vahy reflexivně vyráží. Ve 25.minutě se opět připomínají domácí, Béza centruje dlouhý balón do vápna, Kut vyráží pouze na Láďu, který ve slibné pozici z první střílí vedle. Když už se hráči viděli v kabinách, soupeř zasadil tvrdý direkt v podobě gólu do šatny. Minutu před hvizdem zcela nehlídaný Kaválek uklízí hlavou povedený centr za bezmocného Vahyho, 0-1. Zápas potřeboval "nakopnout". Málo šancí, podprůměrné výkony obou protagonistů, ti co zůstali doma u hokeje, nemuseli příliš litovat. Začátek druhé půle přeci jenom vypadal optimističtěji. Nejdříve Réza využívá chybu beků a své sólo s přehledem zakončuje, 1-1. Minutu na to může Venca poslat biancoverde do vedení, ke smůle jeho projektil končí vedle Kutovi svatyně. Lekci z produktivity nám pak demonstrují Novostrašečtí, v 52.minutě trestuhodná ztráta ve středu pole, následuje kontr, u kterého byli dva nejvýraznější hráči hostů Kaválek s Ducárem. První jmenovaný kolmicí mezi beky pěkně nachází Ducára a ten míří přesně k tyči, 1-2. Potřebný tlak si pak naši chlapci nebyli schopni vytvořit, přesto v závěru sahali po bodu. V 83.minutě posílá Radič "přímák" za půlící čarou přesně na hlavu Pechyho, který míří nad. Tři minuty na to totožná situace, tentokrát v podání centrujícího Kóči a hlavou zakončujícího Bézi pouze do brankáře. A do třetice Tinis, Vahyho nákop hlavičkuje Pechy do malého vápna právě na Tinise, kterého zázračně vychytává Kut. 
Josef Rezek
Udělal gól, bojovností, pohybem a důrazem ho hosté pociťovali z našeho týmu nejvíce.
Pavel Krištůfek
Lepší dopředu než dozadu, v 1.půli měl dvě nebezpečné střely ze střední vzdálenosti.
Ondřej Vahala
Tým podržel v několika šancích, s góly nemohl nic dělat, jeho rozehrávka má vysokou kvalitu.